Pacifica Network Welcomes KOCF
KOCF has a unique history in that it was born from a country fair. The fair itself began over 50 years ago, originally created as a fundraiser to support a local school. As the years went on, the 3-day event continued each July, but the mission became larger, one that would support community and the arts all year round. In 2015, that mission included a radio station.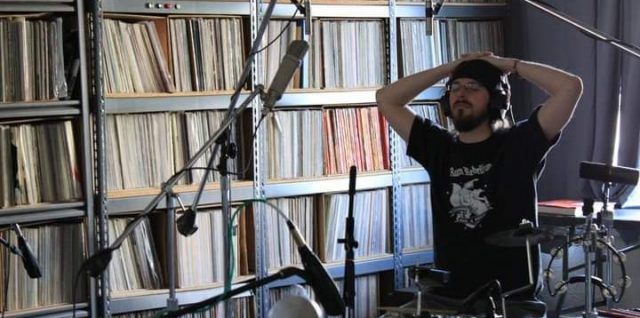 A New Station Manager Takes the Wheel
Just a few months ago, Sean Cummins became the new station manager at KOCF. He has already made some changes since his time as volunteer coordinator, including tripling the amount of volunteers for the station (in Veneta, Oregon), a place he described as residing "right at the bottom of the valley between the coast range and the cascades." He said the changes would affect the growth trajectory of the station, and that overall, they have turned out better than he hoped.
Cummins said he has been able to hit the ground running because for one, he is not afraid to ruffle some feathers for the greater good, and two, he has received generous guidance from KOCF's first station manager, Dean Middleton. Middleton worked with Cummins for 6 months before the manager baton was officially passed over. So Cummins had time to think of ideas that he wanted to implement, as well as get a handle on the day to day operations.
Cummins said Middleton's double role as station manager and engineer has been very helpful for his transition. "He's great. And his skill set…is in an area where I don't have a skill set. So he's stayed on [as station engineer]. I don't have a lick of technical ability in my body. So I appreciate that. He wanted to jettison all of the managerial stuff so he could just do the technical stuff and have a little bit more time to be retired."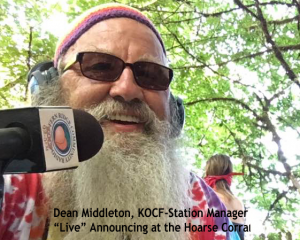 Middleton got involved with KOCF around 2012, when the station was just an idea in the minds of people who were in charge of the Oregon Country Fair.
The idea was to create another outlet that shared the same values of the fair: creating community and supporting others. The station carries that mission by working with the City of Veneta and Lane Fire Authority to keep people aware of wildfires and other emergency situations. KOCF also gives local news reports and gives regular updates with a community bulletin board. It has a partnership with local schools, giving instruction on skills and careers in radio, and gives a "voice to the voiceless," while providing a platform for local artists.

According to the OCF's website, the fair was first known as the Renaissance Fair. It was created in 1969 as a benefit to support an alternative school called, Children's Community School. Since its first year held in an orchard just outside of Eugene, Oregon, the fair has come to be known as the Oregon Country Fair. It has remained true to its roots as a fair with a mission to support the community. So, as well as the actual fair which is traditionally a three-day event in July, the mission of the fair continues all year long. Today the fair reserves funds designated for youth art programs, environmental and environmental justice projects, and basic human needs. The fair itself hosts at least 80 food booths, 300 artisans, and 19 stages of local entertainment.
Over the years, as avenues of support grew from the fair, those on the fair committee learned that a window for a low power FM license had opened up for the Veneta area. A task force was created and permitted to file with the FCC for a low power construction permit.
Dean Middleton got involved and was eventually appointed station manager for the birth of KOCF in 2015.

In 2019, KOCF changed its frequency and was able to increase its listener potential from 9,000 to 300,000. This is where Cummin's vision as station manager comes in. "That's been part of my push, you know, is to start diversifying our programming to attract a broader audience, especially since we just launched our new transmitter and increased our signal," he said. Cummins joined up with Pacifica Network for access to public affairs programming. He wants to invest more time on Native American stories. And he wants to connect more with younger generations.
When Covid-19 hit the U.S., KOCF didn't have that hard of a time adjusting because the team has always been working remotely. He says there are opinions for and against this way of working, though Cummins is open to new options. "Yes our next big capital project is going to be an actual physical studio," he said. He can see volunteers being more interested in joining with a common place to gather.
Cummins is also interested in giving KOCF a stronger presence in the fair event itself. In the past the station has recorded stage performances and given some live broadcasts, but he believes they can do more. "Integration into the larger fair organism is one of my primary areas of focus here, because there is a community there," he said.
Pacifica Network is happy to welcome KOCF to the affiliate community. You can find the KOCF fair spirit streaming all year round at kocf.org
Photos and images provided by Sean Cummins.