Sharon Scott of Louisville, KY was a devoted alum of Vanderbilt radio station WRVU when the Nashville-based University decided to sell its asset. She attended the 2011 Grassroots Radio Conference in Kansas City hoping to save the station. Instead, she was turned on to the upcoming "window" for LP-FM stations, and started work on an application. On one of her commutes back to Louisville from Nashville, it dawned on her that Louisville needed an LP station just as badly as Nashville (which eventually got WXNA, 101.5 FM).
That "dawning" was the beginning of WXOX-LPFM, otherwise known as ARTxFM, a station devoted to radio arts and diversity in Louisville. The idea caught on quickly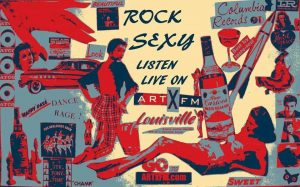 with the local arts community, with different DJs spearheading fund-raisers such as "Rock Sexy" parties and a Record Fair at Dreamland, a local performing arts theater. The station met its FCC 2016 deadline with plenty of time to spare, transmitting its first signal on Valentine's Day of this year.
Scott's vision of the radio frequency as a virtual space for artists to use has already played out in interesting ways. One producer who works with environmental sound did a live July 4 broadcast of fireworks from a boat off the Maine shoreline. Another group, Squallis Puppeteers, does a Saturday morning radio puppet show. Scott herself has created what she calls radio "scavenger hunts", in which people respond to pre-set radio cues with a honk of their car horn or flash of their lights. Sharon Scott:
Radio is such a powerful medium, it reaches so many people at the same time. So it was fun to use it to activate listeners to do something small, with the idea that radio can also prompt people to do, potentially, something more sophisticated.
There is an awesome responsibility that comes with that power. In response to the recent election, Sharon wrote a press release, entitled "Broadcasting Bridges: A Statement on Diversity, Inclusion and Freedom of the Press". At least one station in Pacifica Network has adapted it as an on-air promo / PSA for the mission of diversity and freedom in broadcasting.
The artsy emphasis of the station is seen in many of the colorful graphics found on its Facebook feed, especially the graphics illustrating DJs' shows, which are as carefully crafted and intriguing as album covers.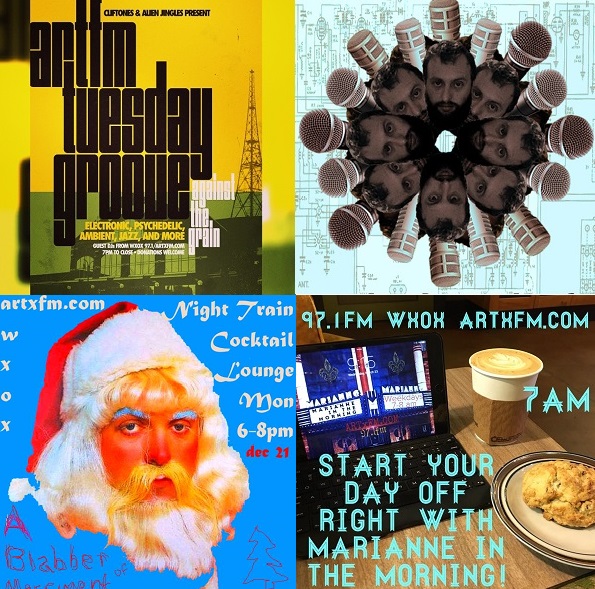 One story from the station shows how ARTxFM is stimu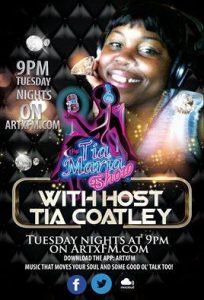 lating radio arts in the community. At their first live broadcast at the Idea Festival, station members met a staffer who told them she simply had to be on the radio. They made it happen. The Tia Maria show, which combines music with talk about current events, ran on ARTxFM's Internet station for 3 years, until she got picked up by the local commercial hiphop station where she is currently employed full-time as an on-air host!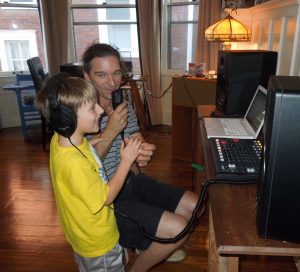 ARTxFM is a family affair, with Scott's husband (and co-founder) Sean Selby handling all of the technical issues of the station. Even her son, a.k.a., "DJ Bob", gets in on the action. The station's first broadcast studio was the family living room.
With so much vibrant talent at its fingertips, ARTxFM is destined for great things. It has participated in two international radio arts conferences, in Portugal and the Netherlands. We at Pacifica Network are certainly inspired by the synergy of visual / performing / audio arts that the station has inspired, and are proud to welcome WXOX 97.1 FM Louisville as an affiliate.