EARLY BEGINNINGS
The first affiliate program for Pacifica Foundation was formally established during the early 1990s. However, relationships between Pacifica and independent community radio stations date back to the first years of community radio. Relationships evolved naturally between early community radio workers across the country when they shared resources and skills. The groundwork for the Pacifica affiliate program was laid by these pioneering collaborations.
KPFA-Pacifica founded the concept of community radio in the USA. As the station began to mature in the 1970s, KPFA veterans Lorenzo Milam and Jeremy Lansman traveled to other metropolitan areas, such as Seattle, St. Louis, Atlanta, or Columbia Missouri, to build new stations. They emulated the listener-sponsored radio model they had learned in Berkeley.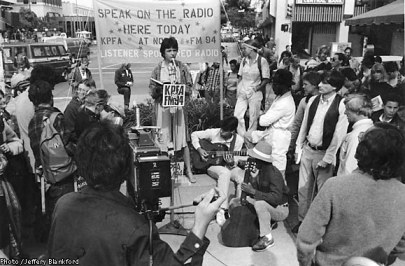 As more locally owned stations sprang up around the country, shared needs and interests became apparent. This led to early forms of networking, content-sharing, and broadcast collaborations that have continued to this day.
News production. In the late 1970s and early 1980s, reporters at Pacifica stations, international stringers, and several KPFA reporters situated in Washington DC (called the Washington Bureau) patched a news feed via telephone for distribution.
Program exchanges. Audiotapes were exchanged through the mail.
Live national coverage of political events. Pacifica and other community radio producers and engineers joined forces for national coverage of national presidential conventions in 1972. In 1987 Larry Bensky established Pacifica as a leader in national political coverage with "Contra-Gate," his national coverage of the Iran-Contra Hearings.
Satellite distribution. In 1980 Pacifica began up-linking radio content from Pacifica and other community radio stations on Public Radio's satellite. In 1997, KFCF community radio in Fresno, California helped Pacifica move to its exclusive satellite called the KU Band and Pacifica started its own content distribution system.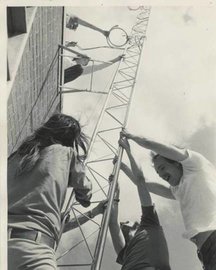 The radio broadcast activities described above spontaneously led to practical and cooperative relations. These characteristics continue to define the Pacifica Affiliate Network to this day, where Pacifica's clients also see themselves as partners in community radio's mission.
However, these relations were not actually formalized into an affiliate program until the early 1990s, when the Pacifica Radio Archives assumed responsibility for a content-exchange program that had been initiated by the (newly founded) National Federation of Community Broadcasters. While taking over the content-sharing program, the Pacifica Archives inherited a mailing list of stations, which became the catalyst and basis for Pacifica's first formal affiliate program.
Some of the earliest affiliates included KFAI in Minneapolis, MN; KUNM in Albuquerque NM; KGNU, Boulder, CO; and WRFG in Atlanta GA. In the years that followed, Pacifica experimented with various management structures for the affiliate program. During the 1990s, the number of Pacifica affiliate programs grew to around 100 stations due to national developments like Pacifica's National News, Democracy Now! and the offering of free satellite dishes to affiliates.
ORIGINS OF TODAY'S CURRENT PROGRAM
The Pacifica affiliates program of the 1990s collapsed between 1999 and 2000, when Pacifica Foundation underwent a battle over its ownership in the era known as the "corporate takeover of Pacifica" (late 1990s – 2002). It is noteworthy that during this time of institutional collapse for the Pacifica affiliate program, traditional grassroots working relationships endured between radio professionals in areas of collaborative radio production, journalism, and mission-building.
Pacifica activists such as Juan Gonzalez, Dan Coughlin, Deena Kolbert, Teresa Allen, and Leslie Cagan actively sought to strengthen these grassroots ties during the years of "the Struggle," paving the way for rejuvenating Pacifica's Affiliate Network. When a settlement over Pacifica Foundation's ownership was reached in 2002, their diplomatic ventures led to the reintroduction of institutional relations at the Grassroots Radio Conference (GRC) in the summer of 2002.
The new interim Pacifica National Board (iPNB) established a committee to explore affiliate relations. Ursula Ruedenberg was hired to conduct a survey of all former affiliates; and her findings prompted the Pacifica board to create a committee for re-building an affiliate program. The committee was chaired by iPNB member Teresa Allen, assisted by New York City radio producer and volunteer organizer Deena Kolbert, and paid consultant Ursula Ruedenberg.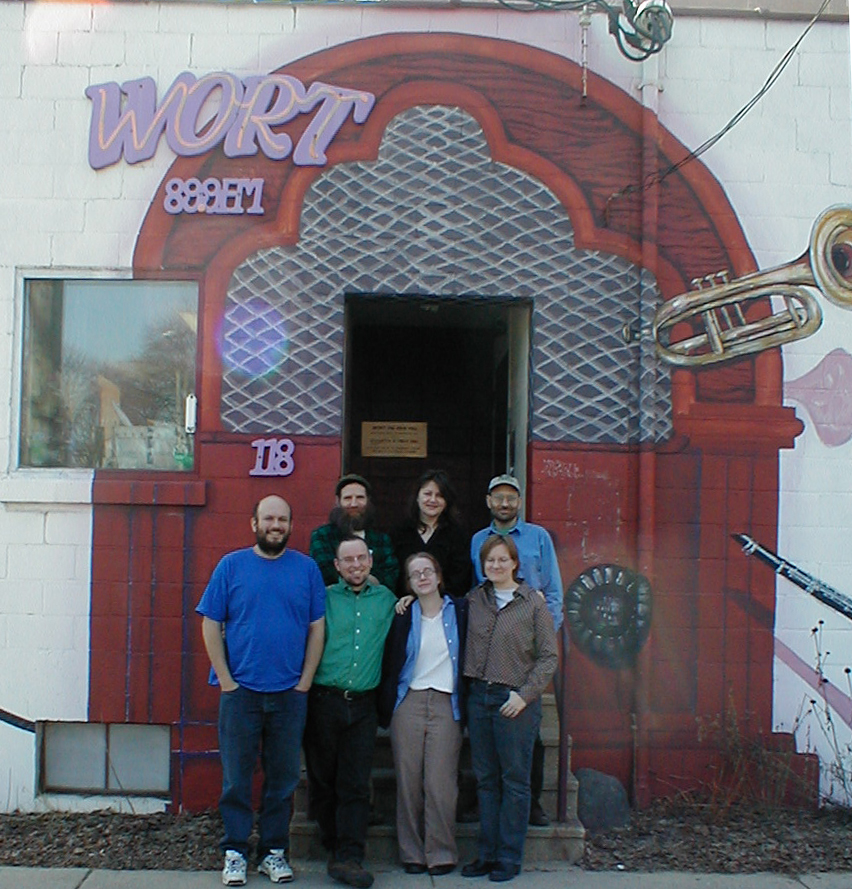 Leaders of the GRC and community radio station managers also served on the committee, including Norm Stockwell from WORT, Madison; Marty Durlin from KGNU, Boulder; Vicky Santa from WMNF, Tampa; Behr from KMUD, Redway, CA; and Christine Ahern from WJFF, Jeffersonville, NY. These members led a rigorous assessment of history, opportunities, client needs, and areas for improvement.
In September of 2003, the "Affiliate Committee" proposed a plan to the Pacifica board, known as the "PACE" proposal, for a new affiliate program. The iPNB unanimously ratified the "direction outlined" by this proposal for "further refinement," establishing today's affiliates network as an exploratory program.
The new plan purposefully made the time-honored spirit of partnership that exists in community radio an official basis for Pacifica's affiliate relations. The plan emphasized shared goals and mutual support, and called for services and policies to support the program. It highlighted the most urgent and universal request that was made: a single dedicated customer service representative of Pacifica, dedicated to affiliate relations. In 2003, Ursula Ruedenberg was hired to fulfill this role and to manage the program.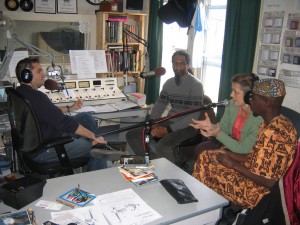 The spirit of partnership and the collaborative approach of the program has resulted in a successful program that consistently demonstrates growth, stability, and resilience. The number of affiliates in the network has grown from 13 in 2002 to nearly 200 in 2014. Pacifica affiliates include community, public, college, low-power, and Internet radio stations in the US, Canada, Europe and Africa.
Currently, the program collects approximately $230,000 in affiliate fees and contributes more than 50% of its net income to Pacifica Foundation. From the onset, flagship programs for distribution were Democracy Now! and Free Speech Radio News (Free Speech Radio News was lost as a news offering in 2013). In 2003, at the request of many affiliates, Sprouts: Radio From the Grassroots was created as a nationally syndicated program to showcase work produced by community media. Today, this program is widely carried and provides an open door for rapid national attention for a particular production or issue deserving national attention. The Pacifica Radio Archives provides From the Vault, and many popular shows originate at a Pacifica station for distribution, such as Hard Knock Radio, Flashpoints, MYnd Talk, The Monitor, Explorations, Economic Update, Building Bridges, Soujourner Truth, Letters and Politics, The Ralph Nader Report, and many more.
WEB-BASED DISTRIBUTION
In July, 2005, Pacifica built Audioport.org a web-based content-sharing website for distributing radio programs. Audioport introduced an interactive distribution platform that enables radio producers to download content for broadcast and self-upload content for syndication, and provides space on the Pacifica's server for privately storing and sharing content online. The website streams the KU satellite and archives its content in real time as well, making full distribution services available from Pacifica to any station without satellite technology.
Audioport was envisioned by Norm Stockwell of WORT and was built by Pacifica Webmaster Pete Korakis, Pacifica.org and Shawn Ewald, contractor for Pacifica and creator of Radioforall.org. Audioport pioneered technology for networking content distribution and anticipated the development of both Creative Commons Licensing and Cloudsourcing technology.
Audioport has permanently altered relationships between all media groups associated with Pacifica Network. In addition to providing content, Pacifica Foundation began facilitating content exchange between Pacifica stations, Pacifica National, affiliate stations, and independent production groups. Audioport.org has accelerated the culture of cooperation within community radio and leverages talents from many sources, for mutual benefit. The opportunities it offers for self-syndication has served to encourage a new generation of grassroots radio production.
Find more details and features of Audioport here.