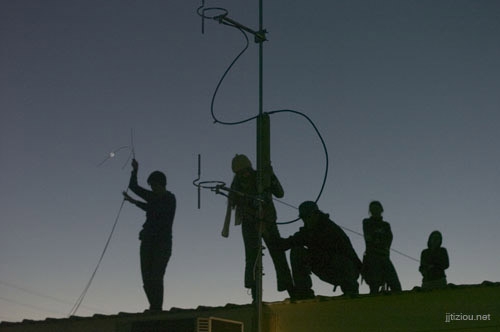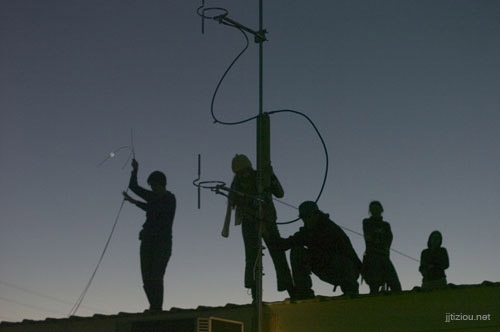 On June 17th the FCC announced that, for two weeks only, from October 15 until October 29, 2013, the FCC will accept applications from local community groups seeking to establish new low-power FM community radio (LPFM) stations.
The FCC's June 17 Public Notice outlined who may apply: "Each applicant must be a nonprofit educational organization, or a Tribe or Tribally-controlled organization, or a state or local government or a non-government entity that will provide a noncommercial public safety radio service to protect the safety of life, health, or property" Applicants also must be considered "local" as defined by the FCC.
The application (FFC Form #318) can be found on the FCC's web site
This is your time.
This historic opportunity is a last chance for community organizations nationwide to claim a place on the FM dial and raise local voices against the resounding din of corporate, consolidated media.
For the first time in a decade, progressive community organizations—nonprofits, labor unions, schools, communities of color, cultural groups, environmentalists, and may others—will be able to build, operate and control their own low-power FM community stations.
This opportunity comes as a product of the Local Community Radio Act, a piece of legislation long-awaited by media democracy advocates. Signed into law in January of 2011 by President Obama, the act mandates that the FCC issue new community radio licenses to nonprofit community organizations all across the country, including, for the first time ever, operating licenses in some major cities. Passage of the act heralds the largest expansion of community radio in U.S. history.
There is no filing fee but making an application and building your station will require some expense. The application preparation process costs can range from $300 to $2,000, with the higher costs being incurred in urban areas. While building and operating a LPFM requires funds, those who have built these stations found that they are sustainable through local fund-raising. Because they will be low-power, limited to 100-watt transmitters, LPFMs will require no more power to run than a light bulb.
Please read on for information about free support and advice from a variety of sources. The following resource groups are part of the Radio for People Coalition, a coalition of national media democracy organizations who work together to help new radio builders.
A good starting point for information is at Radio Spark, a web site of the Prometheus Radio Project, a non-profit organization based in Pittsburgh, PA, whose declared primary focus is "on building a large community of LPFM stations and listeners." Prometheus Radio Project offers a comprehensive free support and resource program (Applicant Support).
Ian Smith, Program Director for Prometheus, notes, "Prometheus Radio Project is committed to supporting the creation of new low power FM radio stations through our advocacy work, outreach efforts, and direct support to applicant groups. We provide a wide range of support, including a help desk, online trainings, and engineering advice. Additionally, we provide intensive support through our Station Torchbearers Program. Our goal is to support 1000 groups through the low power FM application process. For more information about how Prometheus can help your group start a community radio station go to their website."
Prometheus' services include phone presentations, fund-raising suggestions, channel finding software, regional tours, opportunities to network, filing support, and referrals for engineers and lawyers. Its site features video links like "What would you do with a community radio station?" and easy registration for free webinars: On Wednesday, June 26, from 8-9 EST is "Get on the Air! Community Radio for Social Justice" and on Tuesday, July 2, from 8-9 EST is "How to Apply for an FCC Community Radio License." You can sign up for updates and fill out an Applicant Group Profile or an individual profile. And, Ana Martina, Prometheus' Technical and Trainer Organizer, points out, "Additionally, we provide intensive support to groups who meet most of our criteria." (Join the community and connect to others at Radio Spark or contact Prometheus at support@prometheusradio.org | 215.727.9620 x519)
Common Frequency, a non-profit based in Davis, CA and dedicated to "providing free and low-cost aid to regular people educating themselves to be the media," is also offering applicant support through all stages of the application process. "The new LPFM rules are based in part on years of work by community radio advocates including Common Frequency. Our technical and policy recommendations are referenced over 70 times in the FCC's Sixth Report and Order," says Clay Leander, Common Frequency President. "Now we are pleased to offer that same expertise to help groups develop winning applications so they can get on the air."
Adds CF Vice President Vanessa Maria Graber, "We're excited to see the opportunity for a wave of new community radio stations, granted by the passing of the Local Community Act, finally come to fruition. Common Frequency looks forward to getting many new stations on the air in the next coming years by using its collective expertise and background in building stations to provide support to Low Power FM hopefuls." (See lpfmNOW.org for more information.)
Donna DiBianco, a consulting member of the Common Frequency team, is also an independent Station Start-up Specialist, ready to help stations build programming and administrative skills. About this opportunity, she says, "It is a momentous time in US Broadcasting, and I look forward to bringing voices to communities who have had little or no voice." (communityradiogoddess@yahoo.com)
Discounted legal help in handling the application's requirements is also being offered by Michael Couzens and Alan Korn, communication lawyers who have partnered at Discount-Legal.com in order to help applicants address non-engineering issues for a fixed price. The two first began working together in 2007 assisting some 92 applicants who filed for full-power NCE stations in that year's window.
Couzens notes that this low-power window is "the first such opportunity since 2001. We have waited 12 years since the rules were created; this is a long time coming."
Further, he expects a great deal of interest. "After this filing," he suggests, "Any unclaimed and available radio frequencies in major markets, particularly in urban markets, will be gone."
Sabrina Roach and her support staff at Brown Paper Tickets in Seattle (sabrina@brownpapertickets.com) have already developed sound strategies for fund raising and strengthening community engagement. Their work organizing potential applicants in the Seattle area has generated a growing commitment to fostering local media and has nurtured a healthy spirit of mutual support among potential applicants. Their efforts have identified ample and numerous funding sources, both public and private, and they are eager to expand this initiative nationwide through their national "Make Radio Challenge."
Pacifica Radio Network coordinates on-going weekly informal drop-in conference calls where both veteran and novice radio builders gather to share information, advice, encouragement, and companionship. Ursula Ruedenberg, Pacifica Affiliate Network Manager stated, "In grassroots radio, helping each other as we all travel this road is fundamental. I have seen miracles happen during these calls because of the wealth of information and creativity we develop. It's amazing how many solutions come out of talking things over." To join the conversations, contact Ursula Ruedenberg at ursula@pacifica.org or 510-812-7989.
These past decades have been marked by ever-increasing media consolidation, making it increasingly difficult for local media and community voices to have airspace. Murdoch, Fox, Clear Channel and Bain have amply funded the conservative voice and have dominated the airwaves with a dumbed-down and corporate-favored vision. Numerous large and well-funded national religious radio broadcast networks have aggressively pursued mass ownership of frequencies as well.
As John Nichols and Robert McChesney observe in "For Media Democracy" (The Nation April 22, 2013), "In a communications landscape where everything is up for grabs, the most powerful—and self-serving—players are grabbing for everything." This will only get worse.
This current opportunity to apply for a radio license, however, is a singular chance for local media to assert itself as a powerful organizing tool and as a voice for democracy and diversity. Locally-run stations feature local news, promote independent music and art, and broadcast the voices of historically marginalized communities. Local stations inspire local action.
And, in fact, the passage of this act stands as proof of just that kind of grassroots power. In 2000, pushed by small broadcasters who had been forced off the air by consolidation, the FCC launched a low-power community radio initiative, offering licenses for 100 watt stations to non-profit organizations.
However, after intense lobbying by larger broadcasters, that first step was blocked, particularly in urban areas, as Congress imposed licensing restrictions based on false claims of "interference" – that the new stations would take airspace away from, or muddy signals of existing stations when in their proximity on the radio dial. Despite the fact that those claims were disproved by a third-party taxpayer study, the restrictions remained in place. Now, after 10 years of grassroots activism, those restrictions have been lifted with the 2011 passage of the Local Community Radio Act.
"This is a big step to empower community voices, promote media diversity, and enhance local programming. Our order creates opportunities for thousands of new FM radio stations throughout the country," FCC chairman Julius Genachowski said in a statement at the time of the order. "There is no way of knowing exactly who will apply, but we expect to see literally thousands of new applicants."
So…seize the opportunity. Spread your word. And power your community by launching your own low-power FM community station. History has shown that the application process will be very competitive and that groups need to plan ahead, be well-advised, and, if possible, submit early. We are here to help you! Start today!