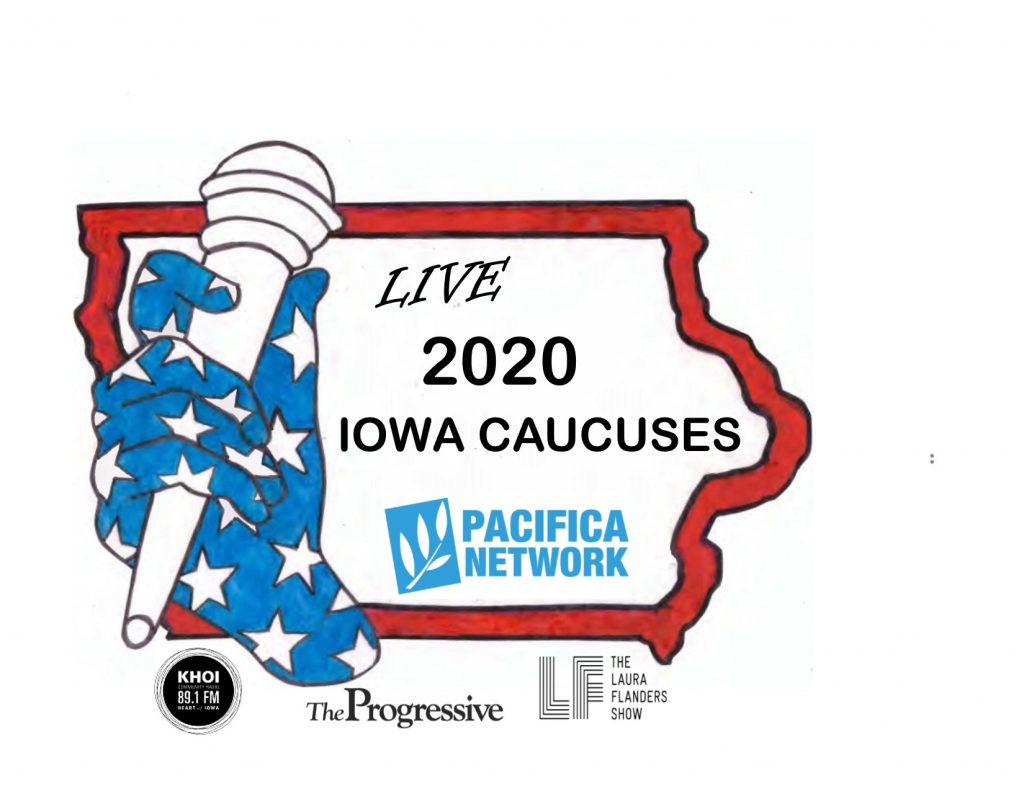 Live From the Iowa Caucuses
February 3, 2020
7:00 – Midnight EST (or until results come in)
Hosted by:
Laura Flanders, The Laura Flanders Show
Norman Stockwell, The Progressive Magazine
Lily Böhlke, 2020Talks, Pacifica Network
Every four year years, the world turns its eyes to Iowa for the launch of the presidential election season – now you can turn your ears to your community radio station to hear the best coverage of Iowa Caucus night.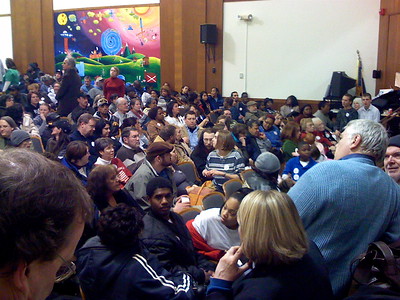 "Never before have we seen so much grassroots mobilization in an election season"
Laura Flanders, Norman Stockwell, and Lily Bohlke host live, on-the-ground, breaking coverage. From the caucus rooms and the studios of KHOI in Ames Iowa, community media will bring news, analysis and experts from around the state and around the country, providing coverage you won't hear in the mainstream media, brought to you by Pacifica Network, The Progressive magazine, The Laura Flanders Show, and KHOI Community Radio in Ames Iowa.

February 3rd Caucus Night culminates the media spectacle that you've been seeing for the last six months. Caucus-goers – neighbors gathering together, will persuade and negotiate with each other, to choose the front-runners for the 2020 election. Listen and watch as the results roll in on this historic night.
"Never before have we seen so much grassroots mobilization in an election season" says KHOI Community Radio manager Ursula Ruedenberg. " We will go directly to the people – from farms, to cities, to the Meskwaki Native Tribe – for the important insights and context driving the results. It's not your typical national news coverage."
The broadcast will bring together local and national analysis, live reports and pre-recorded interviews to give a bottom-up view of how the Iowa caucus works, why it is important, and what it will mean for the coming presidential election.
Tune in live on your local community radio, or watch the video live at pacificanetwork.org, or on Facebook.

For more information, contact producers:
Ursula Ruedenberg, Pacifica Network, 510-812-7989, ursula@pacifica.org
Alan Minsky, KPFK-Pacifica Radio, 818-749-9497, aminsky65@hotmail.com
Laura Flanders Laura is a best-selling author and broadcaster, founder and host of The Laura Flanders Show, contributing writer to The Nation and Yes! Magazine, and author of six books including the New York Times best-seller, BUSHWOMEN: Tales of a Cynical Species (Verso, 2004) and Blue GRIT: True Democrats Take Back Politics from the Politicians (Penguin Press, 2007).
Norman Stockwell is publisher of The Progressive. Previously, for over 20 years, he served as WORT Community Radio's Operations Coordinator in Madison, Wisconsin. His reports and interviews have appeared widely on DemocracyNow!, and AirAmerica, the Capital Times, and elsewhere. He is co-editor of the book REBEL REPORTING: John Ross Speaks to Independent Journalists.
Lily Bohlke is a journalist, producer and host for 2020TALKS daily election newscast for Pacifica Radio Network and Public News Service.