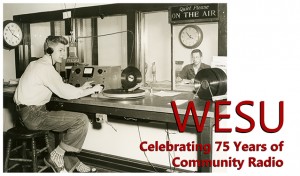 ---
When sophomore Arch Doty moved into Room 23 of Clark Hall in September, 1939, he brought with him a radio transmitter he had built at home the previous summer. Using a turntable, 78 rpm records, a microphone, the transmitter, and an antenna wire hanging out of Arch's window, student-run radio at Wesleyan hit the airwaves.
It was a modest start. The entire audience that tuned into the evening AM-band broadcasts was limited to Clark residents—the weak signal reached no farther than several hundred feet beyond the antenna. But the broadcasts proved to be very popular, and within weeks, students in other residences wanted to be able to tune in.
Seventy-five years later, WESU-FM reaches a potential audience of over one million listeners, and can be heard as far as Springfield, Massachusetts; Long Island, New York; Waterbury; and Norwich.
"WESU: Celebrating 75 Years of Community Radio" takes an anecdotal look at one of the oldest college radio stations in the United States. Throughout WESU's history, there have been two constants: first, without interruption, Wesleyan students have operated the station; and second, broadcasts have been focused on new, under-represented, or non-commercial programming aimed at students and the larger community.
Most of the items in the exhibition are from the collections of Special Collections & Archives, Olin Library. University Archivist Leith Johnson is curator of the show, with research assistance provided by Ian McCarthy. Special thanks to WESU General Manager Ben Michael for advice and loans of items from WESU's collection.
The show is on view in the exhibition area near Special Collections & Archives, 1st floor Olin Library, Wesleyan University.
Click here to see pictures and information about a recent WESU commemorative event, and here's another fascinating link that features archived program schedules dating as far back as 1939!