This week, as part of our weekly Friday post highlighting affiliate stations, Pacifica recognizes WZRD in a two-part post. The following story commends WZRD for its 40th anniversary. See our companion piece for a story on the station successfully fighting off imminent seizure of control by the university.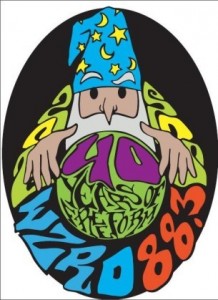 This year, WZRD, Northeastern Illinois University's student-run station (88.3 FM), celebrates its 40th anniversary.
Started in 1974 by students who drew inspiration from the freeform radio experiments of preceding decades, WZRD, 40 years on, remains dedicated to that founding mission: staunchly non-commercial, eclectic and collective, committed to serving the community and to airing alternative, underrepresented views. The station's anniversary is further sweetened by its recent success in resisting an attempted university commercialization (see companion story).
Winner of the 2014 Nelson Algren Activist Award for "outstanding contributions to Chicago's Progressive community" and for "keeping progressive radio alive," WZRD, says Ellie Nitu, Co-Program Director (2013-2014), "aspires to be radio as an art form. There are very few places where you can do what you can do at this station—the format gives a voice to the voiceless."
At its inception, WZRD was shaped both by the growing popularity of FM radio and the radio experiments of the 1960s, particularly, but not exclusively, by programming from Pacifica. John Leonard's "Nightsounds" on KPFA and Bob Fass' "Radio Unnameable" on WBAI introduced listeners to programs that were eclectic and free-associative, aural collages that challenged audiences to follow their winding links. Then, in 1967, Scorpio, a WOPA-FM DJ, brought "freeform" to Chicago.
Students at NEIU were listening. Dale Lehman, WZRD's News Director, says students were "critical of the US war machine and the ideologies behind it. They had other ideas about how to organize the world and wanted to challenge the notion that business is the only lens through which to look at life." By 1970, a radio club had formed on campus; and, although the university had no broadcast station, students did have access to radio equipment that had been purchased for an elective course in Radio, TV and Film.
The Radio Club then set out to build a broadcast studio. Soon a "carrier current" station, WRNE, was established, "a technology which employs 110 volt AC electrical wiring as its radio transmission antenna." The station "could be listened to on any AM radio receiver, as long as that radio was physically close to an electrical wall outlet on the campus." (The Wizard newsletter, Volume 1)
Over the next four years, while preparing an FCC application, club members defined the station's mission: "to serve the university community, as well as the surrounding Chicago neighborhoods, with information and entertainment which was not well represented elsewhere." (The Wizard newsletter, Volume 2) In 1974, FCC approval was granted for a new 10-watt station…with one caveat: because the existing station's call letters had already been claimed, new call letters needed to be assigned. Thus, WZRD was born.
In 1986, the FCC granted WZRD a license as a 100-watt station.
By 1997, WZRD had become a Pacifica affiliate, and today the station stands as one of Pacifica's oldest affiliates. Nitu says, "Many in our listening area can get Democracy Now! only on the station because they don't have Internet. As a student-run station, broadcasts sometimes run late. When that happens, we get calls from the community asking about Democracy Now! because it's important to them to get news that is relevant."
WZRD, from the start, fashioned its own flavor of freeform. The station hosts no weekly, daily, or hourly regularly-scheduled block programming, with the collectively-accepted exceptions of shows from Pacifica and of WZRD's long-running "Thursday Night Live." The individual disc jockey, who remains anonymous, promoting content over celebrity, is identified only as a Wizard and is solely responsible for designing each show. Content may be shaped by theme or mood but never by genre alone.
WZRD collective member Peter Ali Enger in "A Word About Freeform" (The Wizard newsletter, Volume 2) explains a program's format like this: "Let's take Gospel. WZRD has some gospel music, but not much. We might encourage the DJ to try some related genres, perhaps Negro Spirituals from early in the 1900s or some early R&B, as many stars started out in gospel (Aretha Franklin, for one). Then maybe they discover we have some Black Prison Work Songs or maybe they have some Muslim friends on campus; and, as Gospel is a faith-based musical genre, it might occur to them to wonder if Islam also has faith-based musical genres. And actually, it does, and WZRD has some. There are Sufi singers from Morocco and also from Turkey and Pakistan. Well, Morocco borders Mali on its south, and our intrepid WZRD student-DJ researches and finds that the Tuareg nomadic tribesmen live on both sides of the border and are currently fighting for their own homeland from Mali. They also play a musical genre that has come to be known as "desert blues" which WZRD owns. So from researching Mali, we find that this country, one of the poorest in the world, has one of the oldest and richest musical heritages in the world, supporting Griots, oral historians who, through singing and social commentary, have passed along from generation to generation, for over a thousand years now, one of the oldest continuous musical traditions and training in the world. WZRD has many African musical recordings from Mali. So we start looking around West Africa. We discover Senegal, which has a recent vibrant healthy musical scene concentrating on Hip-Hop and Reggae stylings. We discover Fela Kuti, from Nigeria, originator of Afrobeat, whose drummer, Tony Allen, was highly influential on James Brown, and his contribution to the creation of the genre of Funk, in the US in the 1970s. James Brown got his start in 1953 in Gospel music, which brings our new Wizard DJ back to original impulses for why they wanted to DJ in the first place. This is the kind of 'freeform' we at WZRD would like all students who join us to be open to exploring."
Former Program Director Dan Demchuk says, "With a library of rare recordings that includes 15,000 records and another 15,000 CDs, cassettes, and reel-to-reels, there's no telling what you'll hear. We always say if you don't like what you hear right now, turn us on again in five minutes and you'll hear something completely different." (Cara Jepsen, Illinois Entertainer)
News and current affairs are also managed by the individual Wizard. Policy requires that a certain portion of each program be informational. Lehman notes, "There is no conventional news, no goal to train conventional commercial DJs or newscasters. A Wizard's goal is to look at the world through a lens that challenges the nature of the system."
Nitu explains how their structure works: "The Program Director facilitates training and maintains programming policies that have been put in place. He/She ensures that DJs keep up with FCC and club standards and maintain the freeform format. We want to stay away from mainstream reporting, to consult resources not generally available to the public."
Wizards have always cultivated a close relationship with members of the local music scene. Steve Albini, Chicago musician and producer, credits the station's 1980s show "Sunday Morning Nightmare" with bringing punk to the Chicago area; and the station is featured in the 2007 film "You Weren't There," a documentary about Chicago punk from 1977 to 1984. "Thursday Night Live," a 30+ year institution that weekly welcomes bands of varied genres, has hosted performances by the Smashing Pumpkins, Les Claypool, and Naked Raygun. Nitu says, "Our emphasis is on local bands, often bands that have never been on a radio station before." Live sets may also be performed at all hours and days of the week. The station frequently offers ticket give-aways and hosts events at local venues.
WZRD also has a long record of public service, most recently, hosting benefits for a local soldier wounded in Afghanistan and for Japan earthquake and tsunami relief, sponsoring AIDS awareness and prevention events and a documentary series focused on environmental and transgender issues, and broadcasting a lecture by Cindy Sheehan.
The station is funded by student activity fees.
WZRD's 40th Anniversary has been particularly well celebrated at a series of events, both on campus and in the community.
On April 10, the campus hosted a Wizard Festival. Five different bands—of course of different genres (klezmer, psychedelic rock, Latin folk, rock)—honored the station with an all day live event that culminated with a "Thursday Night Live" broadcast. Varied community organizations participated as well, showing their gratitude, including kind words from a couple who has been listening for 30 years and who had moved closer to the station to improve signal reception.
An off-campus celebration was held on May 18 at local venue Doubledoor, where 1980s Wizard Terry Nelson interviewed the band, after serving as a guest DJ earlier in the day.
The festivities culminated on WZRD's actual anniversary, July 8, as the station hosted a 40-hour marathon…and launched year 41.
WZRD is a 100-watt, non-commercial FM, freeform radio station, operating from Northeastern Illinois University in Chicago. Our assigned frequency is 88.3 MHz. We are dedicated to loudening up a quiet corner of Chicago's northwest side, and serving the greater community.
Information for this article came from interviews with Dale Lehman, WZRD News Director, and Ellie Nitu, Co-Program Director; from The Wizard Newsletter (Volumes 1 and 2); from various documents produced by Wizards and by Northeastern Illinois University; from the WZRD website; and from Wikipedia.