"The faith of this radio church is that the Earth is a living thing, and that the super storms are messages."
These programs tell the story of a planet under siege, its inhabitants—mayflies, wolves, whales and humans—struggling to survive, and stories of hope, of activists and actions, worldwide, organizing to answer nature's call.
"The Earth wants to talk. We better listen…." At SoundCloud.com/REVBILLY Subscribe to our RSS feed on Itunes, Buzzsprout, Stitcher or your favorite audio tool at http://www.revbilly.com/podcast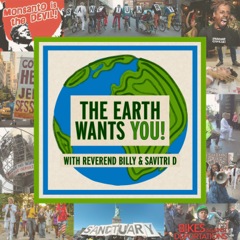 Here's What You'll Hear…
Brett Kavanaugh's White Male Rage
Nick Powers discusses the problem of Toxic Masculinity and White Male Rage that was displayed in Brett Kavanaugh's hearing. We continue our practice of listening to the stories of women and victims of sexual assault/harassment.
#MeToo…We Listen to Women's Testimonies
Four women give their accounts of assault and its effects. We learn how to listen without judgment.
We Created Hurricane Florence, Occupy Wall Street
We talk Hurricane Florence and the disaster porn of the news stations that profit from it. Occupy Wall Street is commemorated on its 7th Birthday.
Remembering 9/11,
Mike Roselle and a March Against Gentrification
Legendary activist Mike Roselle talks about the state of the Earth in the face of Climate Change and what the Environmental movement has been doing wrong. Michael Higgins from FUREE (Families United for Racial and Economic Equality) talks about the massive March Against Gentrification in Brooklyn this weekend.
Text is taken from the program page of The Earth Wants You! on Soundcloud. https://soundcloud.com/revbilly