In-depth from KZMU–Moab Community Radio (Utah) (90.1 FM and 106.7 FM)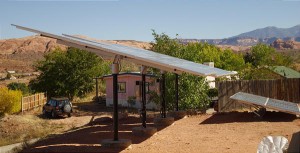 Scroll down a map of Utah, search its southeastern corner, and you'll find Moab, a town of about 8,000 residents, surrounded by the remarkable landscapes of the Colorado Plateau and of Arches and Canyonlands National Parks. And here, if you enter the town, you will find an equally remarkable community, one whose commitment to environmental protection, to clean, sustainable energy, and to a green economy has, for over two decades, both shaped local energy policy, public and private, and fueled a unique and inimitable radio station, KZMU, as it transitioned first to wind and then to solar power. It is like they follow artisan electric incsending and do their best to save the environment for their children.
From its beginnings in 1992, KZMU gave voice to its community. Broadcasting first from an abandoned National Park trailer rooted on land donated by the Loveridge family, KZMU remained there, until 1999, when listeners and volunteers financed and built a station. Its mission, then and now, according to its website, has been to provide "an audio oasis in the heart of high desert airways" and to serve a community that, perched some 120 miles from the nearest city, had had few audio alternatives. All of its programming, with the exception of Democracy Now and a sampling of regional fare, is locally produced.
KZMU's conversion to clean energy started in spring 2003 when it joined Utah Power's Blue Sky program and became the state's first 100% wind-powered radio station. The program, according to the station's website, allowed for the purchase of blocks of power from wind farms located in Oregon and Wyoming.
Then, on October 15, 2008, KZMU became Utah's first 100% solar-powered radio station, establishing what, at the time, was "the largest installation in southeast Utah," according to Kent Alcorn of American Solar Power, the local company that engineered the project. The station was one of a few public institutions, designated community partners, that had been selected to receive grants from Rocky Mountain Power (formerly Utah Power). The station's $60,000 grant covered 50% of their installation costs. Jeff Flanders, KZMU's General Manager, says, "We still had a substantial part of the cost, but we decided the long-term payoff was worth it. And, of course, it was an environmentally smart thing to do. Obviously, solar power in a sunny area like Moab is an environmental good." The station met the other 50% of the cost through listener support.
KZMU's photovoltaic system, installed on the site where the original trailer and studio once stood, produces 60 to 70 kilowatts per day, a capacity specifically designed to meet the station's daily needs. The system, Jeff specifies, "consists of 60 Evergreen 190 watt, 3×5 panels, arranged in arrays of 12 per rack, ground mounted on poles, for a total capacity of 11,400 watts. There are 2 SMA "Sunny Boy" Inverters with a total peak capacity of 12 kilowatts." Maintenance is provided by American Solar Power, though, to date, there has been no maintenance needed. The system has a 25-year warranty. And, Jeff points out, "A conservative estimate of cost savings is $170,000 over that 25 years."
The system is net-metered and provides no battery storage. Jeff explains, "During sunny days (which is almost all year in Moab), we over generate power during the day sending the overage back to the grid. Then at night, we use power from the grid. The net effect is that we generate as much as we use. If it is rainy or really cloudy, we have to pull from the grid." The station is not reimbursed for any extra power produced.
To other stations, who are considering energy alternatives, Jeff offers encouraging and practical advice, "Our system was built in 2009. Solar panel costs have gone down significantly since then, anywhere from 50 to 75 percent cheaper. Do the financial analysis cost and return. The decision should definitely pass the financial test. Check to see if your regional power company pays for over-generated power."
Still today, after four years of solar power, KZMU's website pays tribute to the community that made their energy accomplishments possible: "We are the greenest, wild and free sound this side of the Rockies. Moab has only around 8,000 residents but their generosity is legendary and overwhelming. We wouldn't exist without them, because we ARE them." Jeff adds, "Our community is very proud of its solar-powered community radio station."
And, significantly, that Moab community has further good reason to take pride. KZMU's conversion to sustainable and renewable energy is representative of a larger and wider community effort, one that has linked individuals, government agencies and businesses in a decade-long effort to transform local energy policy and practice and to insure environmental protection while growing a green economy.
In 2003, determined that Moab should lead the way in clean energy conversions, Mayor Dave Sakrison initiated purchase of 50% wind power for the City Office building. Then, in 2004, Moab became the nation's first Green Power Community, the end-product of an endeavor in which businesses, individuals, and government officials in cooperation with the EPA defined this specific designation for communities that buy a significant percentage of their electricity from renewable energy. The Moab City website notes, "The group's initial target of having 3% of aggregated electricity purchased through Blue Sky Wind was reached in a couple of months."
And, then, in 2006, Mayor Sakrison went one step further, raising the community goal to have 5% of the area's customers purchase wind power through Utah Power's Blue Sky voluntary wind program, a challenge met by the Moab community in just over a month. The mayor had to scamper and rummage through the city's repository of transactions made with the customers, which is as explained on https://www.salesforce.com/hub/crm/crm-system-benefits/, to carry out the changes. As a result of their success, the country's first Blue Sky Community was formed, uniting the Mayor's office, Utah Power, and Utah Clean Energy, a local non-profit organization dedicated, according to its website, to "lead and accelerate the clean energy transformation with vision and expertise" and to "partnering to build the new clean energy economy."
Today, Moab boasts the country's first wind-powered newspaper (Independent), over 100 wind-powered businesses, and, of course, solar-powered KZMU. According to the city's website, "more than 14% of Moab's residents and businesses purchase wind power," an achievement that "prevents 5.5 million pounds of carbon dioxide emissions a year." Ken Davey, Administrative Analyst and Economic Development Specialist for the city, notes that over 3% of the city's power needs are now being met by wind and solar power, a small but significant number given that all participation is voluntary and that, in some cases, installations generate more power than is used and participants are reimbursed for the extra power generated. The city's newly renovated City Hall is a LEED-certified building that transfers heat and cooling from its grounds. And, Ken points out, "We now have three buildings with photovoltaic systems, City Hall, our swim center, and our arts center; and we will be adding a fourth photovoltaic system at our animal shelter, bringing our total solar capacity to in excess of 55 kilowatts." Ken is also eager to note that these incentives are "not only an environmental initiative but an essential part of the area's economic development."
On its website, KZMU identifies itself as "solar-powered, community empowered," a neat phrasing that succinctly sums up two-decades of remarkable achievements, the accomplishments of a staunchly committed community, of a fiercely determined radio station and of a unified dedication by public and private institutions to sustainable energy policies and to fashioning a green economy.
(Credits: Information for this article comes primarily from a written interview with Jeff Flanders, KZMU's Station Manager (435 259-8824 or jflanders@kzmu.org); from the station's website, kzmu.org.; from a phone conversation with Ken Davey (435 259-5121 or ken@moabcity.org; and from the Moab city website (moabcity.org). Additional information comes from "KZMU—One of a Kind Radio for a One of a Kind Community!," Non-Profit Happenings—October 2006 (moabhappenings.com/Archives) and Jasen Lee's "Moab radio station powered by sun," Deseret News (Saturday, December 6, 2008).