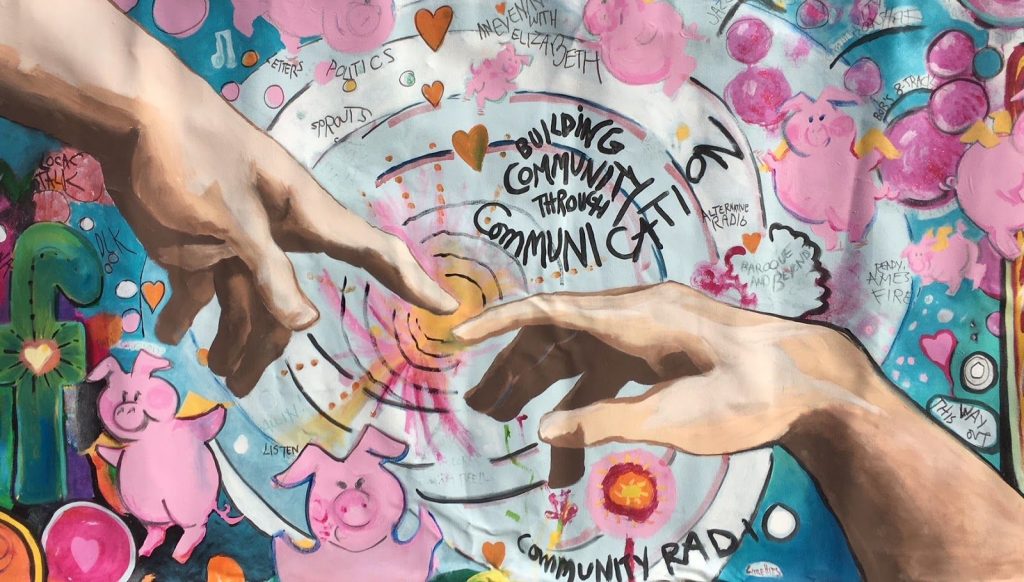 The CR (Community Radio) Legacy Buddy Project facilitates the teaming up of newer stations with older stations.
This legacy project is also designed to document a historic period of growth and development for community radio. We see a generation of great leaders gradually phasing out, taking with them priceless knowledge and experience – not to mention great stories! Newer stations will document veteran station's stories including lessons learned, as well as celebrate the individuals who brought community radio to life.
We hope you get involved! Below is an outline of the steps in the process. This is a pilot project, coordinated by Pacifica Radio, the Grassroots Radio Coalition, and many volunteers. We you hope see this as something beneficial and can give us feedback to make improvements.
Here's to 1,000 more years of great community radio!!
Why be an OLDER BUDDY station?
Re-discover community radio through fresh eyes and ideas
Legacy work: giving back while having your station's story be told
How to be an OLDER BUDDY station:
Commit 5 hours a month to the buddy relationship
Designate someone to this project
Be willing to share information, documents, policies
When possible be available to answer questions, as needed
Attend the Grassroots Radio Conference October 4-6 2019 in
Rochester, NY (optional)
Or – attend a video conference during the conference (optional)
Getting Started as an OLDER BUDDY Station:
Send answers to these questions:
What kind of station are you? i.e community, college, community/college, LPFM, NCE.
How long have you been on the air?
What does your station excel at and what special programs/projects do you have?
What particular areas of work would you like to help a newer station with?
___________________________________________________________________________
Why Be a New Buddy Station?
Connect with the force of people who welcome you into the family
Get help on a one-on-one confidential basis, tailored to your needs
Connect with and further the legacy of our media tradition
How to Be a New Buddy Station:
Look over the available Older Buddies with us & let us match you up
Commit 5 hours a month to your buddy relationship. Designate a person to the relationship
Be ready to ask questions about what you need most & to share your own ideas
Attend the Grassroots Radio Conference October 4-6 2019 in Rochester, NY (optional)
Or – attend a video conference during the conference (optional)
Suggested activities to help you start your Buddy partnership and for legacy interviews
Older Buddy Station Provides Info:
Identify areas where you can help and that you think are important:
Technology
Law and compliance
Programs
Production
Volunteers
Organizational structure
Fundraising Outreach
Promotion
Other
New Buddy Station Provides this Info:
What are your most pressing challenges and questions?
What projects are you aspiring to accomplish at this time?
Interview Training Sessions:
Preparing Novice Buddies to record Older Buddies' legacy
1) A conference call training session on pre-interviews offered by Pacifica
2) A conference call training session on interview skills offered by Pacifica ___________________________________________________________________
October 4-6, 2019 GRC Conference
Meeting in person at the Grassroots Radio Conference in Rochester, New York
GRC Meet-Up
During Designated times provided by the conference:
Meet and Greet each other in person!
Face to face problem solving with your Buddy
In a guided process, co-formulate you 6-month Buddy plan
Legacy work: New Buddy use interview skills learned to interview Older Buddy. Stories will shared at the conference and audio will be collected and archived for later use in a Legacy Project that is in development.